Every August, the creativity and advancements of inventors is saluted in a month-long recognition begun in 1998 by the United Inventors Association of the USA (UAI-USA). The month of honor is intended to promote a positive image of inventors and celebrate their contribution to society and the greater good.

National Inventors Month is sponsored by the Academy of Applied Science, Inventor's Digest Magazine and the UAI-USA. IP Advocate wishes to join these associations in wishing the best to all inventors, academic and independent, around the nation.

IP Advocate works to advance the cause of academic inventors in the U.S. by informing its growing community how to protect their rights in their intellectual property. While many of us may have an "a-ha moment", inventors are those that are driven to take the inquiry further and dedicate their life's work to the quest for answers and solutions to life's myriad problems.

Apple's Steve Jobs said, "Innovation distinguishes between a leader and a follower." U.S. faculty scientists have and still are leading the way in developing pharmaceuticals, treatments and technologies that continue to shape humanity's future while improving its present. Academic inventors are responsible for most of the life-saving and benefit creating innovation in the world.

They have taken us to the moon and into the reaches of space with rocket fuel --
Dr. Robert Goddard, Clark University

Saved the frail bones of undernourished children with Vitamin D fortification --
Dr. Harry Steenbock, University of Wisconsin

Literally kept the life-blood flowing to the troops from WWII and forward with blood preservation technology -
Dr. Charles Drew, Columbia University

Eradicated a crippling disease from most countries of the world with the polio vaccine --
Dr. Jonas Salk, University of Pittsburgh

Changed the vision of diagnostic medicine forever with the -
CAT Scan - Dr. Robert Ledley, Georgetown University
MRI - Dr. Raymond Damadian, State University of New York
PET/CT Scanner - Dr. Ronald Nutt & Dr. David Townsend, University of Pittsburgh


Preserved the sight of millions by developing a cure for chronic dry-eye in both humans and animals -
Dr. Renee Kaswan, University of Georgia

Divined a method to blueprint the human body through recombinant DNA technology -
Dr. Stanley Cohen & Dr. Herbert Boyer, Stanford University/University of California

IP Advocate is dedicated to recognizing and supporting the contributions made each day by academic inventors, not just in August of each year, but in every month of the year. Rhaz Zeisler, Executive Director of IP Advocate recently announced, "In honor of inventor's throughout the year, IPAO will launch a new section this fall that recognizes individual academic inventors. Each month IPAO will turn to its community to nominate an inventor to be profiled. Recommend a faculty innovator to be considered for a feature article or case study. Select the 'Nominate an Inventor' ad below or on IP Advocate's home page. We look forward to your suggestions and appreciate your submissions!"

With the nation's economy relying more and more on innovations from academia to ensure the future health and prosperity of our nation, acknowledging the contributions of faculty scientists is critical. IP Advocate is dedicated to the preservation of inventors' rights and the furtherance of the entrepreneurial spirit of their life's work.

As President Obama recently stated, "The weight of our nation's current economic crisis will not determine the destiny of this nation. The answers to our problems don't lie beyond our reach. They exist in our laboratories and universities, in our fields and our factories, in the imaginations of our entrepreneurs and the pride of the hardest-working people on Earth."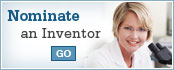 Inventors of America, IP Advocate salutes you!